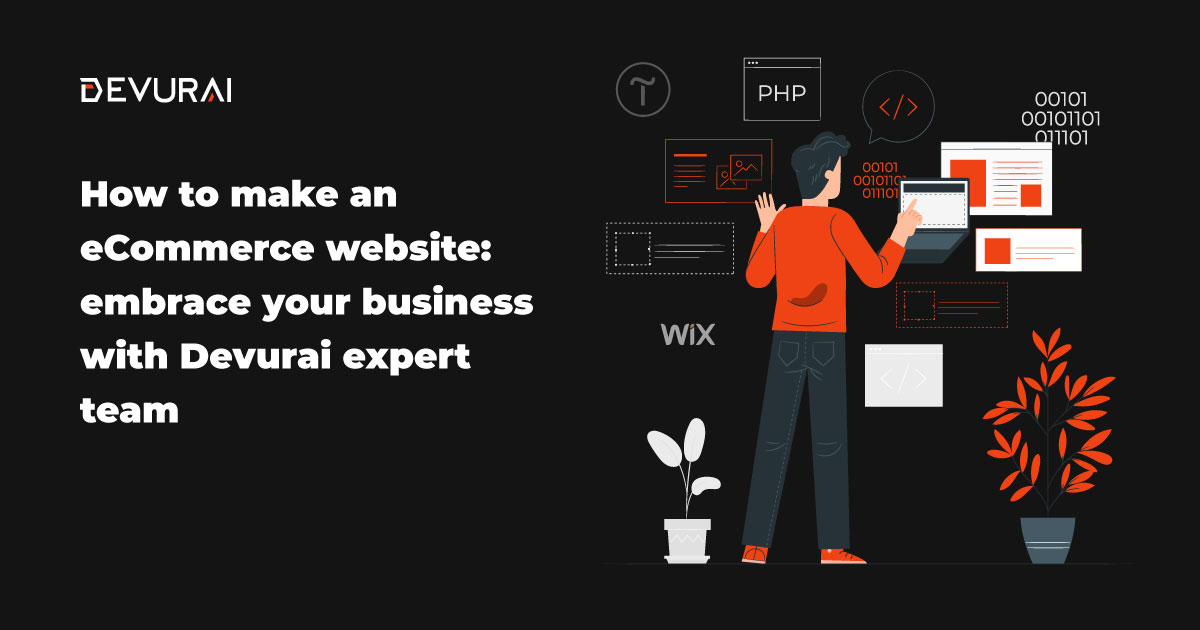 Let's be fair, there's only one way for any business with no eCommerce website in 2020. Down. According to Statista sales share of eCommerce will make for 22% of the global retail rates by 2023. Generation Y continues to distance from the physical shops and pulls Gen X down the same way. Above it all, the current pandemic has limited our shopping habits to digital, while providing safety for both retailers and customers.
An eCommerce website provides much more than just a shopping platform. Nowadays, there isn't a more convenient way to find information about any retailer or firm, but on an appealing and intuitive website. Businesses without an online presence risk losing trust due to the lack of provided information on the web.
We already hear your desperate "I need a website" scream, so here you go. This article is just about how to make a website from scratch. You've already made your first step in building your own online store. We will lead you to the last.
Be strategic: prepare for your transition to online
First steps of a successful eCommerce website
The first thing on your way to the successful website is competitor research. The Internet market may differ from its physical form, so consider if your offer needs to be updated, supplemented, or substituted. Look for the local vendors providing the needed products and for the locally preferred delivery services. Do all you can to make the delivery process as short and convenient, as possible.
You might also start considering investing in marketing services. Building a quality website is one thing, but bringing it to life and making people start noticing you and your products is another. The Internet is a wild-wild west and marketers are the sharpest cowboys that will show you around.
Next, you have to claim online presence with a domain that represents your company best. Buy it or to go with a shared domain, which is more preferable with smaller scale companies. Shared domains help to reach the target audience, while a private one is much better for search engine optimization (SEO) and brand recognition. People usually begin their eCommerce journey with a shared domain and buy their own after some considerable expansion and growth.
Essential tools for making a website
The last preparation step before building a website is to choose the right tools. There are two types of eCommerce websites building platforms. Before creating one, you'll have to choose between content management systems and website builders. WordPress is probably the most popular example of a Content Management System (CMS) and it fully deserves its credit. CMS requires some experience from the user due to the great number of provided options and possibilities. It's considerably harder to build a working website using CMS, but it could be much more profitable and reassuring, so people usually hire web developers to do the job for them. This way you receive a fully functional and appealing website as fast as possible. Devurai consultancy might provide just the help you need with efficiency and ease.
But if you are the DIY type of person, you can find your web development solutions within website builders like Wix, Shopify, Squarespace, or a free option- Weebly. Website builders are PowerPoint-presentation-level easy to use but could be limiting in some aspects. For example, these kinds of web-building tools provide only the most basic SEO (search engine optimization) options, which can really get in the way of a developing brand.
PRO TIP: before rolling out your website, think about also selling on the marketplaces like Amazon and eBay. Not only do they provide a tremendous number of customers, but also payment gateways and shipment. As your website grows, consider branching out from these platforms, provide your own payment and shipment methods, develop your webpage.
Assembling your eCommerce website
So to build your eCommerce website, you have to have to check this list: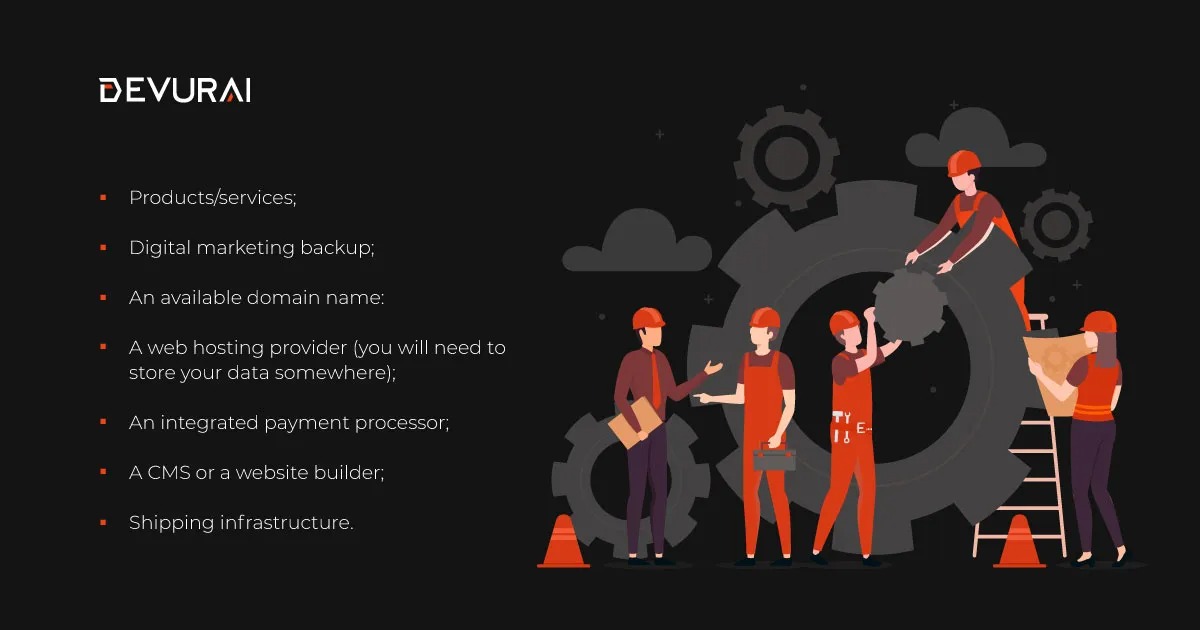 If you feel like having this list under your belt, let's get to building your website.
Think through your website infrastructure
First, structure your future website. It's extremely important to make it easy and intuitive to navigate through your website and find the right products without any confusion. In order to accomplish this task, a professional touch is needed, but you can try and make your own research. Check out the websites of your competitors, note how you navigate through them, test them on your friends, family, colleagues. Don't be afraid to experiment and contribute something new to the table.
Studying the way how your target audience perceives and browses webpages is still a far-from-entry-level task to do. We would be glad to assist you through the journey of getting your products or services out there.
By the way, in addition to the website infrastructure, segment your webstore to make it more efficient. It does include a tone of research, testing, and coding, so at this point, you definitely have to invest in web development services. Website segmentation creates more personalized user experience. For example, it may display different languages depending on user location or it may display different products or text, depending on the previous user's behavior. Just imagine: you own a pet shop, a potential customer registers on your website and specifies having a dog. Next time he/she enters the site, it will greet her with "How is your good boy doing?" or display dog products mostly. This strategy is extremely effective, but also technical, so keep it in mind for later.
The actual process of building a website is purely a technical aspect. You either learn how to do it through the tutorial in the website builder of your choice or give this task to the web developer with a CMS to make the most out of your potential.
The holy trinity of the eCommerce website development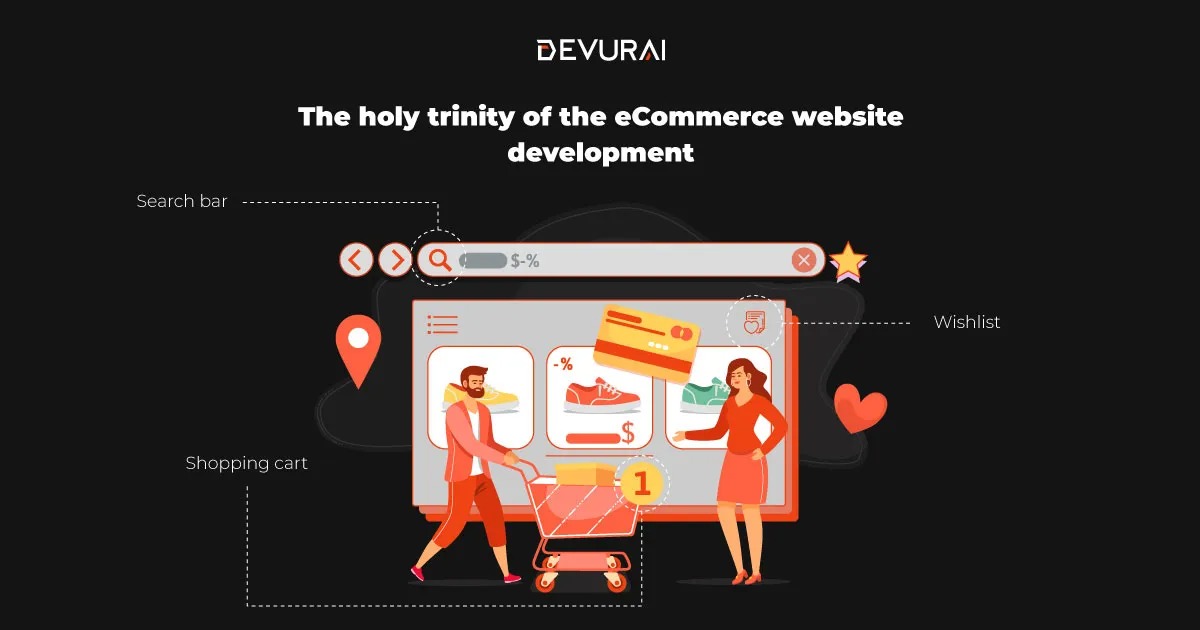 One of the essential elements of your website should be a search bar. This is an ultimate navigation tool, that makes shopping so much easier, by taking you to the wanted page or product directly. It should be illegal not to have a search bar on your eCommerce page!
The other must-have element is a "shopping cart". It's actually hard to imagine an eCommerce website without a shopping cart. No one can doubt the convenience of having an option to gather all the products you need on one page and being able to check whether you have collected everything you need.
Just add things to your cart and continue browsing through the store for more. What can be easier and more functional? Remember to notify the registered users about their shopping carts via email.
Last but not least is a "Wishlist" option. The fact that not every retail webpage offers the option to save the most cherished products in a wishlist is obscure. People can spend so much time looking for the right products online. It's cruel not to give any "save for later" option. Those who actively use wishlists are basically sales qualified leads, who just beg to make a purchase.
PRO TIP: product reviews are also a great way to market your offerings and build trust with your customers. Pull reviews and other reactions about the products from the available sources or build your own review base by asking your customers to contribute. Note that by making a "review" option similar to the "comment" option on social media, you lose the value of the reviews. People will mostly ask most primitive questions there, the ones that may not even relate to the offering.
How to maintain an eCommerce website?
Making a contribution to the world wide web with your online store is great, but it won't make you rich if you stop developing at this point. The trends are shifting, the technologies are upgrading, the nature of the internet can't stand still for a moment. Everything is moving and developing all the time. The same goes for your business. To stay afloat, you need to enhance your website constantly and reach out to new customers.
In order to stay in the game, invest in further web development and digital marketing. Web developers make up for your website's functionality, while marketing makes your customer base grow.
Content marketing is currently a thing. Commercial websites provide their own articles to educate and inform the prospects that search the net for information related to the firm's products or services. This way you drastically increase your reachability (if you know how to deal with SEO), trust, and authority.
Good luck with your future website!
We sincerely hope that now you have acquired a deeper knowledge of how to make an eCommerce website. Of course, the way to a successful online business will be hard and have its own share of sour moments, but we believe that everything ends well in the end.
In case you need any assistance with the process of assembling your eCommerce website, consider contacting our team so we could make it as smooth as possible. Check out our case studies to reassure our expertise.