About the client:
Striving to be the top of the best in their sphere of business, our Client came up with a brilliant idea of a platform that would be out of competition due to its exceptional functionality, refined design, and elevated user-friendliness.
Problem client faced:
Our client came with a deep understanding of the importance of a high-performing website that provides an excellent user experience while meeting accessibility needs. Their idea was to create a content management platform with all the functions to perform a thorough website analysis. However, the market could not offer a decent application that could comply with all the high standards set by the modern IT industry. So, the Client addressed our Company for help in designing a system able not only to detect errors but also to make their elimination process easy and fast.
Our solution:
We have developed an all-in-one content governance platform that automates many time-consuming tasks associated with managing content across multiple platforms and channels. The platform provides a comprehensive solution to content governance challenges, ensuring consistency, quality, and compliance. The application automatically alerts its users of problems and shows them exactly where they are in order to take action quickly and efficiently. The product is constantly evolving as we are staying in tight contact with the Client and their users to deliver only the best functionality based on customers' feedback.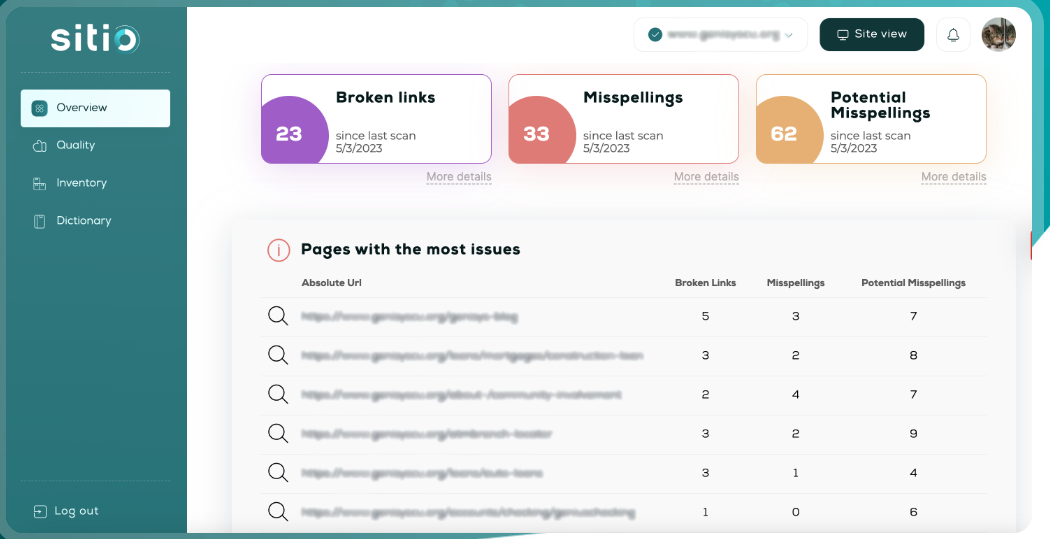 Key features:
Robust website crawler
Our powerful crawler technology scans your website for issues such as broken links, crawls and saves HTML, CSS, JS and assets of the site for them to be analyzed for any type of issues.
Detailed misspelling, grammar and broken links report per each page
Now, there is no need to scroll through the whole website in search of any mistakes. The platform does it all for you providing with a detailed report on the whole site and each particular page.
View crawled site with highlights of issues on the pages inside the tool
This feature allows to view all the errors in an accessible and user-friendly manner.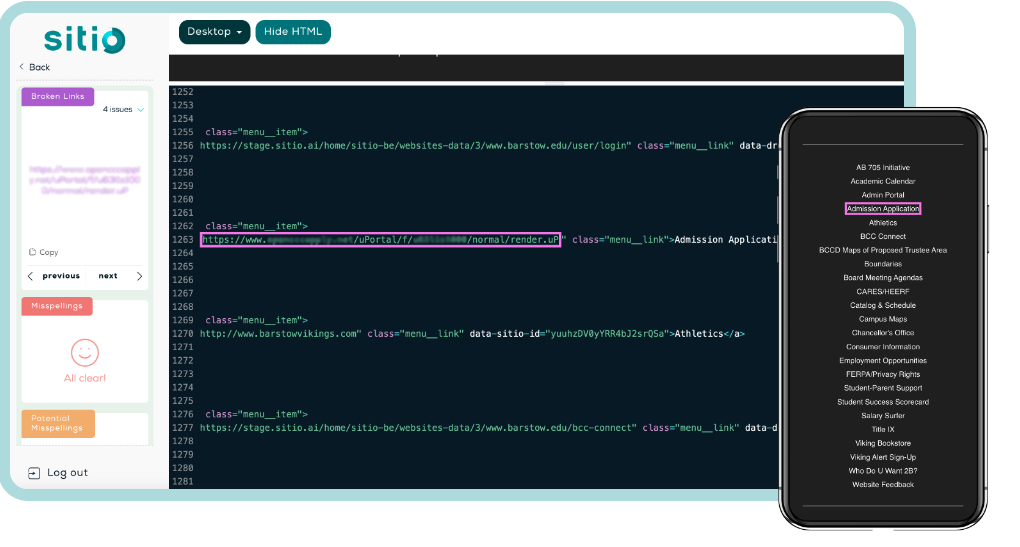 Website inventory management system
Includes a list of all pages, links, documents and images from the website.
AI integration for website content enhancement suggestions
ChatGPT integration along with pre-build and custom prompting allows users to enhance any content on the site in no time, consolidating content management in one place instead of jumping between different tools.
Site insights detailed page reports and scores: Performance, Accessibility, Best Practices, SEO
Utilizing the power of Google Lighthouse, our analysis includes not only content-related issues but runs a full backend check analyzing Performance, Accessibility, and SEO of the site along with suggestions on how to fix it.
Technologies: