Project duration: September 2020 – April 2021
About the client:
Our client, a renowned and highly regarded weekly publication with global distribution, has successfully established a new benchmark in nation-oriented media. Our client has gained widespread recognition with its comprehensive coverage and captivating content. The magazine is published weekly in two prominent locations ensuring that readers worldwide stay well-informed. Dedicated to offering its readers an enriching and thought-provoking experience, our client's talented journalists and writers consistently deliver investigative and intriguing features that delve deep into various aspects of life, culture, and society. These articles testify to our client's commitment to providing in-depth analysis and compelling narratives that captivate and inform its readership.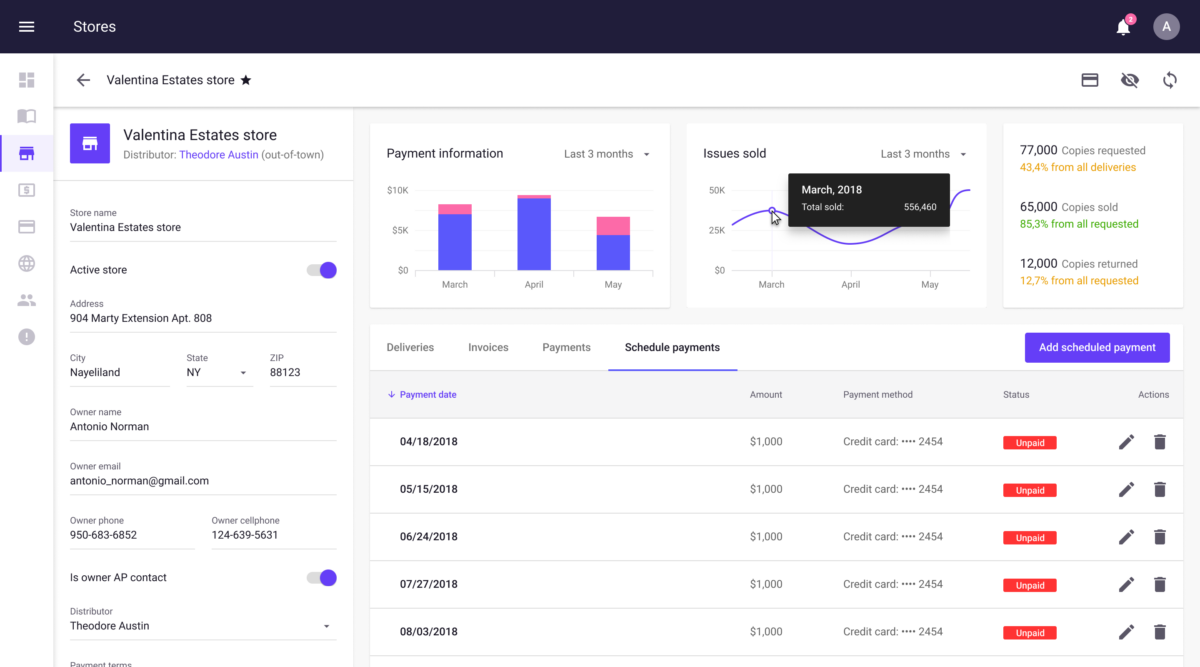 Problem client faced:
To enhance their distributor management's overall efficiency and effectiveness, our client realized the urgent need for a comprehensive restructuring of their existing systems and processes. Managing orders, returns, and commissions had become chaotic and disorganized, needing a clear structure or defined workflow. Upon examining their database and engaging in detailed discussions regarding the required features, it became evident that a significant overhaul was imperative. Recognizing the crucial role of streamlined operations in driving business growth and customer satisfaction, our client decided to revamp their distributor management approach, looking for an efficient framework that would address the existing challenges and pave the way for future scalability and success.
Our solution:
At the heart of this transformative project lies the creation of an advanced magazine distribution management tool that seamlessly integrates with a private CRM system. This innovative solution revolutionizes data collection, enabling comprehensive analysis and control of crucial information through intuitive utilities. The primary objective was to establish a robust infrastructure that streamlines the entire distribution process, effectively eliminating the need for manual interventions and reducing the risk of human error. Through the implementation of technologies, the project empowers our client to leverage the vast amounts of data generated by their magazine distribution operations, transforming it into actionable insights and valuable decision-making tools.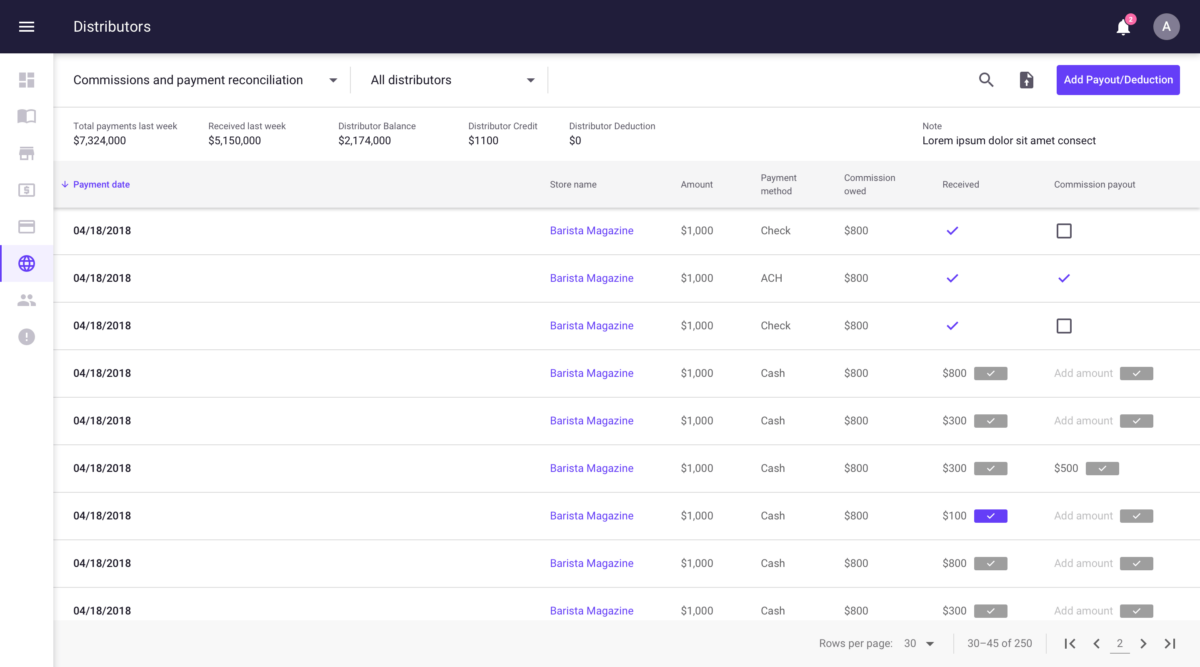 Key features:
Distributors orders management
We developed a solution that provides comprehensive and detailed insights into each transaction. By offering a clear and comprehensive picture of the entire distribution process, our system ensures that destination stores are identified, quantities purchased are tracked, returns are efficiently managed, and inventory is strategically reserved for future distribution. This tool empowers to optimize their distribution network.

Payment process integration
We established a transparent and systematic process for reconciling distributor commissions. We effectively managed all debts and credits through meticulous tracking, providing a clear overview of payments made. This comprehensive approach facilitated easy comprehension of the financial transactions, ensuring accuracy and transparency in commission payouts.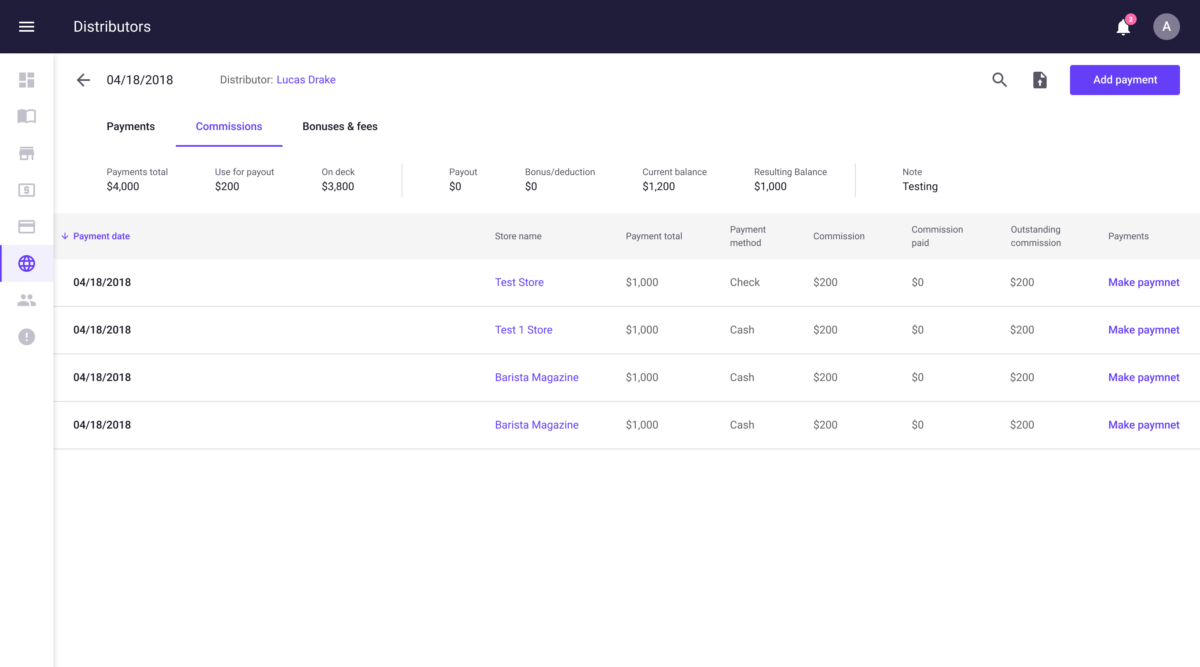 Chat with distributors
Internal chat with distributors serves as a vital communication tool, enabling seamless and efficient collaboration. It fosters real-time information sharing, query resolution, and order management. This streamlined communication channel enhances productivity, strengthens relationships, and ensures a smooth flow of operations between our client and their distributors.
Notification system
Despite it's a desktop first application, we implemented a notification system to inform distributors about sales updates and data entries. An interesting feature we incorporated was the auto-responses, enabling distributors to send values via email conveniently. These values would then be automatically "read" and seamlessly imported into the system, ensuring accurate and efficient data management. This streamlined process facilitated communication and enhanced sales tracking and data integration efficiency.
Technologies: